by Kathleen Stack
After eight months of waiting, my husband, Bob, and I received our invitation to join the Peace Corps, and were on our way to Mali. It was 1974. I'd hoped for Kenya, a land of wild animals, cool elevations, sun-bleached beaches and … English speakers. I had to find Mali on a map, and soon learned that it was a former French colony in West Africa, huge, landlocked and mostly Sahara Desert. My standout performance on the Foreign Service language exam had sealed my fate. My interviewer asked Comment allez-vous? (How are you?) and I responded Je m'appelle Kathleen! (My name is Kathleen!), which earned a 0+ out of 4!
Dad had told me about the Peace Corps when JFK was President, and from seventh grade on, I knew I had to join. Bob, whom I had married a year earlier, understood this was part of the deal. Still, my mother sobbed when I told her our assignment. Dad kept reassuring her that it was the chance of a lifetime. 
Dad had told me about the Peace Corps when JFK was President, and from seventh grade on, I knew I had to join.
We arrived in Bamako, the capital, at midday, after eighteen hours of travel. Our group of twelve very weary new Peace Corps recruits descended the steps of our Air Afrique plane into 44 degree Celsius heat, about 111 Fahrenheit, and a sun so strong the tarmac and terminal shimmered. As we traipsed across the hot pavement toward Immigration, we looked around at one another, pointing and laughing at the sweat already dripping off our hot, tired bodies.
I will never forget the van ride to our training house, where we would learn both French and the local language, Bambara, as well as what our new jobs would be. The road was narrow.  People on bicycles swerved this way and that to avoid crowds that lined the street. Everyone seemed so busy! Women wearing colorful pagnes and head scarves of red, green and blue, strode smoothly erect with baskets of food or clay pots of water on their heads. Men and women squatted on wooden stools behind small tables at the side of the road, selling sardines, matches, plastic shoes and other items I didn't recognize. Radios blared local music. Our van slowed and wove around herds of goats and sheep crossing the street. I felt an indescribable blend of terror and excitement.
 We had committed to two years and three months, in other words, almost forever, to my twenty-three-year-old mind. As the reality of it began to sink in, I wondered if it was all a mistake. I couldn't have imagined this place, it was so different from anything I knew.
We stopped at a beige-painted one-story cement "villa" in a dusty local neighborhood. It held a large living room and kitchen, which served as a common area. Behind the house was a separate long rectangular structure with a row of numbered green metal-slatted doors. Tiny two-person rooms behind six of these doors would house us: eight men and two married couples.  Our host pointed out the latrines and showers at one end. This was to be our home for three months while we were in training. Oh, boy.
 We had committed to two years and three months, in other words, almost forever, to my twenty-three-year-old mind.
We had been vaccinated for cholera, typhoid, rabies and myriad additional health risks in DC prior to departure. I was afraid of getting malaria, since that wasn't covered, but I knew nothing about the other dangers we would face. I pleaded somewhat desperately with Leslie, the three-year Peace Corps veteran who would be our group leader, for the malaria pills. He laughed and reassured me we'd have them the next day.
 Our tiny quarters had two single beds, which we immediately pushed together. A small light bulb hung from the ceiling. We sweated through the hot nights, barely relieved by our tiny fan. Over time we got used to the hum of our neighbors' evening conversations and the bang of pots and pans at first light.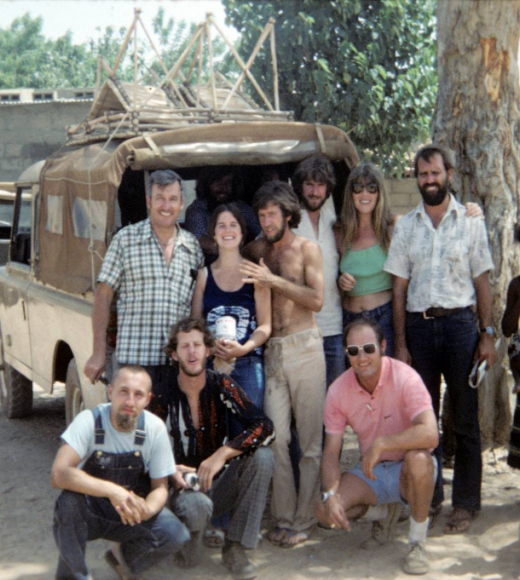 Monday through Friday, we traveled across town to the Peace Corps training center, marveling at the mosques, markets and madness of the traffic. Our committed and energetic Malian instructors taught us language, culture and agricultural techniques. On the weekends, we explored the streets and market stalls of Bamako, practicing our newly learned Bambara and bargaining skills. We engaged with the hawkers and sellers to buy trinkets and cloth. We wove our way through colorful crowds of people, bicycles and donkey carts and inhaled the mixed scents of incense, barbecued goat, and urine. At a local bar and meeting place, we connected to share experiences and enjoy the luxury of an icy ten cent Coca-Cola.
About six weeks into our training our group embarked on an expedition to spend three days in a rural outpost. This would help prepare us for our long-term assignments upcountry.  We caravanned in three Land Rovers to Banamba, about three and a half hours north of Bamako.  There, by kerosene lamplight, we shared rice and sauce from a common bowl, scooping food into our mouths with our right hands, as is the tradition. Our hosts honored me by offering the delicacy of a sheep's eye. I swallowed quickly, trying not to think about what I was eating.  We shared an outhouse, where I learned to swing a kerosene lamp back and forth to scare off the cockroaches before sitting.
My most vivid memory of that trip was the last night. Bob and I had elected to sleep in a tent on the ground rather than on the hard cement of the open-air veranda. During the night we kept hearing scratching noises. It was unbearable, like a dripping faucet. At my urging, Bob grabbed a flashlight, halfway lifted the tent and looked underneath. Seeing nothing, he assured me we should just try to get some rest.  But the mysterious scratching continued.  I couldn't imagine what it was, but it kept me awake. Bob wasn't having as much trouble sleeping as I was.  As I tossed and turned, he would awaken and at one point we both used our sandals and flashlights to pound the floor of the tent, hoping to kill what seemed like something alive underneath us. To no avail. By about 4:00 a.m. I finally slept restlessly. At sunrise, we awoke, shimmied into our clothes and crawled outside. We lifted the floor of the tent and looked again.  There were dozens of tiny scorpions. They had been under us the whole night. Our group ran over, drawn by my squeals. We soon learned that our driver had been stung by a scorpion and was feverish and severely ill. We packed up, laid him out on the back seat and made our way back to Bamako to health care. I was frightened for him and thankful that it wasn't Bob or I.  Soon, word came that the driver would recover. 
It felt luxurious to be back in our home in Bamako, with a bed, a fan, electricity, and running water. Happily, I thought how lucky we were and began to look forward to our new adventure.