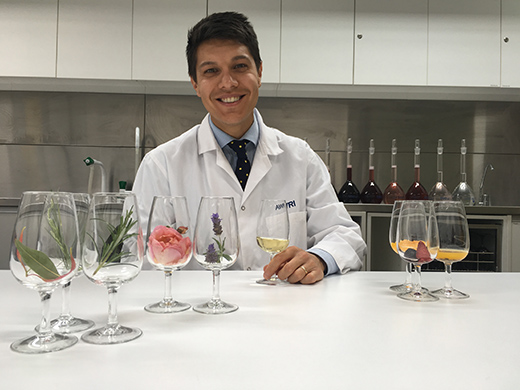 Damian Espinase Nandorfy, a scientist at The Australian Wine Research Institute, completed the Applied Sensory and Consumer Science Certificate Program in September 2018.
How has the certificate program helped you advance your career?
It has given me a strong foundation in sensory and consumer science. During the program I was promoted to scientist within the Sensory and Flavour groups at The Australian Wine Research Institute. The certificate program provided countless resources, unprecedented access to pioneering sensory scientist instructors and taught critical-thinking skills needed to thrive in the field.
What are your plans for the future?
I will now combine the knowledge gained from the UC Davis Continuing and Professional Education certificate program with my scientific research education and winemaking experience to embark on a Ph.D. thesis. I plan to explore interactions of wine compounds, their sensory significance and underlying biological mechanisms of perception. Utilizing sensory analysis, this project will investigate in vivo perceptive sensory effects such as suppression or masking, enhancement and synergism that have been documented in a limited manner in wine matrices and further explore these findings in novel human odour receptor models, in vitro.