CPE Offers New, Online Public Health Certificate Program
UC Davis Continuing and Professional Education's new, online Public Health Certificate Program—one of campus' first "pipeline degree programs" of its kind—is now available to current and future public health professionals. Developed in partnership with the UC Davis Department of Public Health Sciences, the certificate program is designed to address a national public health workforce shortage by providing advanced training for careers in public health. The innovative program is a bridge to public health-related master's degrees and serves as a seamless entry point to the UC Davis Master's in Public Health Program, ranked 22nd in the US.    
"There has been a surging demand for public health services as we transition out of the COVID-19 pandemic," said Brad Pollock, chair of the UC Davis Department of Public Health Sciences. "The pandemic highlighted the growing need for public health professionals, and right now, we only have one-fifth of the needed public health workforce in the U.S."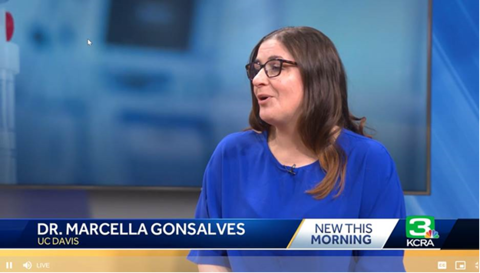 Up to 12 units of credit can be transferred to the graduate Public Health degree, giving working professionals the flexibility to advance their education in a manageable, convenient way while still maintaining full-time employment. The graduate-level coursework offered in the certificate program also serves as a post-baccalaureate for the UC Davis program and other MPH programs, helping future public health workers gain a competitive advantage.   
"Online pipeline programs such as the Public Health Certificate reflect the changing needs and expectations of working professionals," said Susan Catron, Dean of UC Davis Continuing and Professional Education. "These programs provide an academically rigorous learning experience with immediate workforce applications, while keeping the door open for pursuing a graduate degree."   
Advanced Training to Enhance Your Career
The one-year, part-time certificate program provides foundational knowledge in core areas of public health, including epidemiology, biostatistics, health services administration, and social and behavioral determinants of health. "You will master the competencies required for accredited Master of Public Health degree programs, and for those of you already working, the certificate may expand your options for promotion and advancement within your organizations," said Pollock.   
A unique feature of the program is that participants will benefit from strong networks in the public health world due to UC Davis' close proximity to the California Department of Public Health, one of the largest and most innovative public health agencies in the United States, and other local health departments, community clinics and advocacy groups.    
Courses are taught by experienced faculty from the UC Davis Department of Public Health Sciences and industry experts, ensuring a relevant and applicable curriculum that prepares students for certification in public health. (Meet program instructors Marcella Gonsalves and Jake Pry.)
Explore the Courses
The four-course program is now open for enrollment. A bachelor's degree, introductory level statistical knowledge and familiarity with SAS programing prior to applying is highly recommended: 
Check out the program on KCRA Morning News
Primary Category
Tags