Student Spotlight: Vickie Chaimanont
Undergraduate: UC Davis
Major: Wildlife, Fish and Conservation Biology
Program Track: Health Equity
Future Health Profession: Veterinary Medicine
Health Profession School: UC Davis School of Veterinary Medicine
Vickie Chaimanont dreams of being a veterinarian. Her undergraduate degree in wildlife, fish and conservation biology with a specialization in behavioral ecology prepared her well. She developed a broad background of all animals, their environments, and their unique perspectives and behavioral needs, and also learned how to facilitate less stressful environments when handling animals through patience and empathy—all important qualities for veterinarians. To supplement the academic knowledge she had gained, she worked for seven years after completing her degree to acquire practical veterinary experience before applying to vet schools. However, despite her applicable experience and background, her academic standing as an undergrad prevented her from being accepted.
Determined to achieve her dreams, she stopped working and dedicated herself to becoming a full-time student again. She completed the UC Davis Health Professions Post-Baccalaureate Program in an effort to enhance her academics and make her a more competitive applicant for vet school. Chaimanont's efforts paid off, and she was thrilled to be admitted at the UC Davis School of Veterinary Medicine.
Read our interview with Vickie Chaimanont as she recounts her journey toward this important milestone of her life.
What have you been up to since completing the UC Davis Post-Baccalaureate Program?
I continued to take upper division science classes through UC Davis Open Campus, including a companion animal nutrition course and a biomechanics course. Prior to entering the post-bac program, my GPA was the weakest aspect of my application, so I focused my efforts on continuing to improve it. I wanted to submit my vet school application knowing that I gave myself the best chance I possibly could, by boosting my GPA with a few extra quarters as a full-time student. The post-bac really set me up with the skills and motivation I needed to succeed academically in rigorous upper-division science courses, and I was able to continue that momentum with the classes I took beyond the program.  
How is your school application process going?
The application process has gone really well for me so far. Between the GRE Prep class and the Narrative Medicine class offered through the post-bac program, I have been preparing for the application and writing a personal statement long before the application even opened. This really helped alleviate a lot of stress from the application process. And, if I ever did feel stressed out about it, the post-bac advisors were always available to help talk me through it.  
Why did you decide to pursue a post-bac?
After receiving rejection letters, I reached out to vet school admissions teams for advice and was told to pursue a post-bac program or a Master's degree in a science-related field to show that I could consistently succeed as a full-time student and was prepared for the rigors of veterinary school. I decided that a post-bac program would be more directed in helping me achieve my academic goals.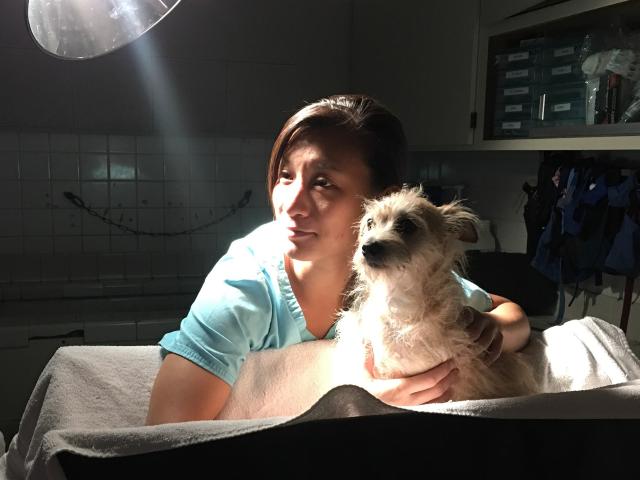 Why did you choose UC Davis for your post-bac studies?
Many of the other post-bac programs I looked into were relatively hands-off in terms of advising and the application process. They were predominantly self-paced. The UC Davis Post-Bac program emphasized a strong advising team and seminar classes directed toward becoming a more competitive applicant and an empowered healthcare professional. These were aspects I knew I needed out of a post-bac program.  
What were your goals going into the program, and how did our program help you achieve them?
My main goals going into the program were to show that I could maintain an upward trend in my GPA, build confidence in myself and learn how to network. The program introduced me to new study tips and habits. Advisors encouraged me to break through my inhibitions and form study groups and attend office hours to make valuable use of my cohort and professors.  
What did you find most valuable about the program?
The thing I found most valuable about the program was the strong community I formed with my peers, advisors and professors. I felt like everyone was on my side and I had a big team rooting for me.  
Tell me about your experience in the program regarding the advising and test preparation.
The advisors and test prep classes try their best to set you up for success and be available for you as much as possible. But at the end of the day, if I did not show up every week, put the work into practicing for the GRE, or open up to my advisors when I wasn't feeling confident about my progress, they would not be able to help me as much as they did. You get out of it as much as you put in.  
How were the instructors in the program? 
Many of the instructors were extremely supportive. All the effort I put into studying and actively participating during class and office hours helped me stand out with the instructors. They were enthusiastic to share more with me when I had a good handle on the current material, and were patient with me even if they had to explain a particular topic multiple times. That made me feel like they truly cared about my success as a student and reaffirmed that my efforts were not going unrecognized.  
What was your cohort experience like?
Being surrounded by a group of strong individuals who bring unique perspectives on life, experiences, and medicine is a very empowering circumstance to be in.  
Why did you choose the Health Equity Track and how has this experience helped you?
I chose the Health Equity Track because I wanted to learn more about how I could help improve access to vet care and health education for more people, especially for underserved communities. Volunteering as a vet assistant for the Knights Landing One Health Center, I learned how to create inclusive interactions with clients who come from diverse cultural backgrounds and disadvantaged socioeconomic circumstances. This experience showed me how impactful providing an inclusive environment can be for clients and their eagerness to learn more about how they can help their pets.  
Learn More about the Program
Sign up for one of our upcoming UC Davis Health Professions Post-Baccalaureate Program free information sessions. Hear from program staff and get your questions answered. Register today!
Would you recommend the UC Davis Post-Bac?
I would absolutely recommend the UC Davis Health Professions Post-Bac. The camaraderie of the cohort, the guidance from the advising team, and the seminar and test prep classes can really help elevate the way you view yourself and how you will approach the world going forward. The post-bac program helped me become a better version of myself and thus a better healthcare professional for those I will help in the future.  
What advice would you give to others who are considering pursuing a health professions post-bac?
Make sure you are really ready to commit full-time to studying for classes and make use of all the resources the post-bac program has to offer. The classes are definitely not easy and post-bac programs can be pricey. Get the full value of your time and money by putting in your best effort.  
Where do you hope to see yourself in the next 5-10 years?
I hope to be a practicing veterinarian. Most of my experience so far has been working with small animals, but I would like to eventually live in a more rural area and care for large animals in addition to dogs and cats. I also hope to spend some time traveling to countries with limited veterinary resources and volunteer for local small animal rescue groups and potentially even wildlife sanctuaries.
Hear more from Vickie.
Primary Category
Tags