Be an Agent for Positive Change – For Your OLLI
Who would have thougt that in the beginning of 2020, when COVID-19 modified so much of daily life, that it would last for so long?
Thanks to the innovative and collaborative nature of OLLI, our community has made the leap into the digital world. Our members, students and instructors continue to enjoy the positive, collegial experience of learning together live, via Zoom. We invite you to take part in that.
It Takes a Village to Get the Work Done
We've all had to learn new ways to do things. OLLI member and Zoom volunteer Sandy Mansfield shared her inspiring story with us:
"I volunteered to become an OLLI Zoom co-pilot a few months ago. I heard OLLI needed help moving its classes online and needed assistants for the instructors to teach via Zoom. I was not a "whiz" at Zoom, but was open to learning about it and trying to help. OLLI's great staff and key volunteers knew a lot about Zoom and trained us as volunteer co-pilots to make classes as trouble-free as possible. Now, I help instructors set up in Zoom before class, monitor the group for questions, keep track of the time and call the OLLI staff if we run into anything I can't troubleshoot myself. I've learned a lot and feel so much more comfortable and confident than I did before about learning online. And, getting to take part in a few more OLLI courses was an unexpected plus! There are so few co-pilots and so many new classes coming in the winter! There's never been a better time to learn a new skill and help OLLI to continue to thrive. Consider giving your time and learning a new skill as an OLLI co-pilot."
Share in Sandy's experience by becoming a co-pilot for OLLI. Lean-in, and help us keep seniors connected during COVID! For more information and details, contact the staff at olli@ucdavis.edu. 
Get Out of the House - All the Way to Mars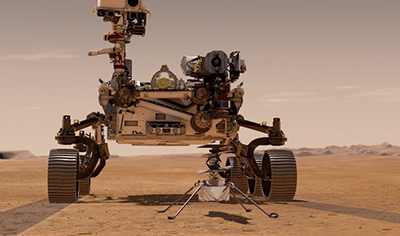 Local scientist, researcher and OLLI instructor Dr. Marvin Goldman has been working with NASA for over 45 years on deep space exploratory missions. His work on the Mars missions began in 1976 with the Viking 1 & 2 landers and continues today as a consultant in the current exploration of our neighboring 'red' planet! Learn about our most recent Martian endeavor and the journey of a "life seeking" jeep-size rover making discoveries for humankind from nearly 50 million miles away.
Enroll online or contact us at olli@ucdavis.edu with a request to register, and our Student Services staff will call you to complete your enrollment. A zoom link will be sent to all enrolled participants the night before this class.
Tags