OLLI Road Trip - June 1
'Dear San Francisco' Club Fugazi Show & Lunch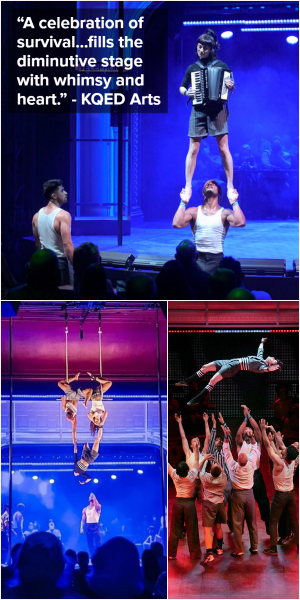 Think Cirque du Soleil, but with more dialogue, less makeup and awe-inspiring performances that tell the story of an iconic American city…
Powered by exhilarating acrobatics, choreography, spoken word, video projections, shadow play and live music, 'Dear San Francisco' invites visitors on a heart-stopping romp through both the essence and the myth that is San Francisco. From the Gold Rush and earthquake, to beat poetry and the mysterious fog, this historic city comes vividly to life, thanks to an international cast of world-class acrobats, musicians and performers across a variety of disciplines - including hoop diving, Chinese pole, Korean plank, hand-balancing, juggling and "hand-to-trap." Before the show, our group will enjoy lunch at Skates on the Bay at the Berkeley Marina.
DATE: Thursday, June 1, 2023 from 10 a.m. to 6:00 p.m.
$195.00 – includes advance Zoom lecture, show admission, lunch and luxury motor-coach transport from Davis. Parking and bus pick-up location will be emailed one week in advance of trip. Student credit may not be applied to this event.
Email olli@ucdavis.edu to secure your reservation or leave your name and phone number on our office line at 530-752-9695.
Added Value! Club Fugazi Executive Director David Dower will offer a lecture for OLLI via Zoom prior to our June 1 road trip on Thursday, May 25. Further details, including time, available soon.
Tags