Special Interest Groups for Creative Types and Call for Volunteers
OLLI Loves Creative Types
One thing we know about OLLI members – they're not only inquisitive about the world, they're also creative. If you have a creative mind – a green thumb, or a knack for knitting – don't miss great, upcoming Special Interest Groups (SIGs) with Garden Gurus on Tuesday and the Yarn Workers Collaborative on Friday. See our schedule below.

SIG Topics for Week of July 26
American Unity: A Historic Perspective – Thomas Jefferson and the issue of race in America. Discuss how our history relates to the problems we face today.
Garden Gurus – The History of Central Park and Central Park Gardens. Master Gardener Peg Smith will lead this discussion group for garden enthusiasts.
Can Biden Build Back Better? – A group assessment and discussion of the electoral college and mid-term elections.
Decades – Examining the decades of our lifetimes – this week we'll discuss the 1940s: looking back at victory gardens, WW2, the GI-bill, the Chrysler Thunderbolt, Doris Day, big band music and other memorable icons of the era.
Yarn Workers Collaborative – Discussing patterns; i.e., abbreviations, stitches, gauges, where to find patterns for your idea and skill level.
Participation in Special Interest Groups (SIGs) is included at no additional cost with your OLLI Summer membership. SIGs offer a casual, discussion-based format with minimal lecture content. Each group will take place on the same day of the week, from 1-2 p.m. every other week beginning July 6 through September 10. Register here
A Special Call for Talented Volunteers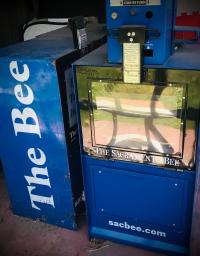 Earlier this year, OLLI was lucky enough to receive three 'retired' newspaper-rack boxes, donated by The Sacramento Bee. We'd like to use these boxes for OLLI catalog distribution beginning this August. We are STILL in need of help from volunteers who are willing to assist in refurbishing them so these boxes can begin life again featuring OLLI catalogs! OLLI will deliver the boxes to your home and provide necessary supplies.
Please email OLLI Director Lisa Smith-Youngs for details at lmyoungs@ucdavis.edu
Tags