Thanksgiving is here and so are some new courses
Let's Make a Memory Together. Document this Unique Thanksgiving with OLLI.
Thanksgiving 2020 will be unlike any other I have known.
As the months progress, I've tried to stay mindful of the hardships we have survived in the past, and the need to make comforting, happy memories to soften those that are painful and difficult.
Those of us in the "OLLIverse" are lucky! We have each other - let's celebrate it!
Many of us will be reducing our exposure to COVID by staying home, so we invite you to send OLLI a photo from your Thanksgiving day to share on the OLLI BLOG page the following week. Photos can be anything related to your experience on November 26.
Planning to sleep-in? Send us a photo of your pillow! Are you a daily walker or runner? A landscape from your route would be a treasure! If you're cooking for a smaller gathering – take a quick pic of your homemade stuffing, turkey (lasagna?) or holiday pie. Meeting family on Zoom or Facetime? Take a screenshot for OLLI! (If you do share a group photo, please get emailed consent for everyone in the photo, to meet compliance requirements…)
Creativity is encouraged! Let's make this particular Thanksgiving extra special, together.
Send your photo and/or questions via email to olli@ucdavis.edu. Staff will be away from the office Nov. 26 & 27 – make Leslie and I smile with a goldmine of photos when we come back to work on the 30th!
Warm Holiday Wishes to You,
Lisa Smith-Youngs, Program Director
Coming Attractions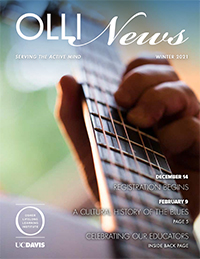 The OLLI Winter Catalog will be available online on November 30.
In the meantime, we still have two upcoming courses for your pleasure in December…
Tuesdays: Dec. 1 and 8 from 10 a.m.-12 p.m.
Carrie Sessarego returns as an OLLI instructor with a delightful two-part class just perfect for ushering in the holidays. Examine the life of Jane Austen during the British Regency Period when manners and customs held sway and figured prominently in her novels. After class, you may find yourself picking up an old copy of Sense and Sensibility or Northanger Abbey to read through the holidays. Register online or email us at OLLI@ucdavis.edu and we will have Student Services contact you to complete registration.
Wednesday: Dec. 2 from 10 a.m. - 12 p.m.
Larry Lobre will share some unique holiday music you probably haven't heard on the radio. We promise, no Nat King Cole or Mitch Miller sing-alongs in this session! It's also an opportunity to share personal stories about what music you're listening to as the year draws to a close and what kinds of music you look forward to hearing as the holidays approach. Register online or email us at OLLI@ucdavis.edu and Student Services will contact you to complete your enrollment.
Tags