We Can't Wait to See You this Summer!
Our Summer Pre-College Programs at UC Davis are academically rigorous and designed for talented, motivated, high-achieving high school students—from rising freshmen to rising seniors. There are no set minimum requirements (such as a minimum GPA), but your application materials should demonstrate strong initiative and academic ability, and the maturity necessary for participating in a residential program on a university campus. We're looking for students who have a passion for learning and who will make valuable intellectual and social contributions to the program. 
The program does not offer academic credit.
Getting Ready to Apply for the Pre-College Program
To easily apply for a Pre-College Program, we recommend the following:  
Step 1) Create a UC Davis Continuing and Professional Education student account
Note: Individual students must create their own account. Parents or legal guardians should not create an account on behalf of their student.
Step 2) Make sure all the necessary documents needed are ready for upload:
Short Answer Questions
You will need to upload one document containing your answers to the following questions.
Question One: Tell us about why you selected the UC Davis Pre-College program area that you chose. How does it match up with any previous experience or future goals? What do you hope to get out of your participation in the program? (250-word limit)
Question Two: Tell us about one or two of the interests and activities that are most important to you. What motivates you to pursue them? How much time do you devote to them? How have they made a difference in your life? (250-word limit)
Waivers and Forms
You will need to upload each of the following documents separately.
Any documents which require a signature must be signed by both the student and legal guardian if the student is under the age of 18 at any time during the program.
Required from All Students
Required from Students Under 18
Topic-Specific Waivers and Forms
Step 3) Determine your form of payment
Our online system currently accepts credit card payment in the form of Mastercard, Visa, and Discovery.
If you plan to pay for your application using any other form of payment, please contact precollege@ucdavis.edu for further information.
How to Apply for the Pre-College Program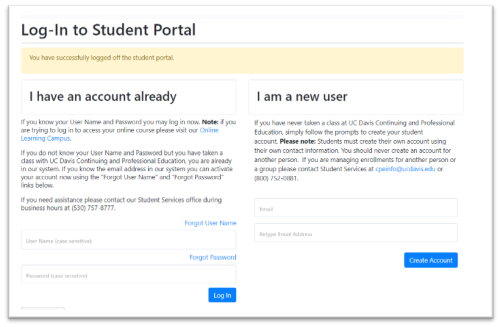 Step 2) On our website, select the course you are interested in joining and choose "Enroll Now"
Note: You will not be able to apply for courses that have reached maximum capacity and have a full waitlist.
Step 3) Complete the required application
You do not have to complete the application in one sitting. You can save your progress and return to complete the application at a later date. Your account will show your progress as one of three levels: Incomplete, In Progress or Complete.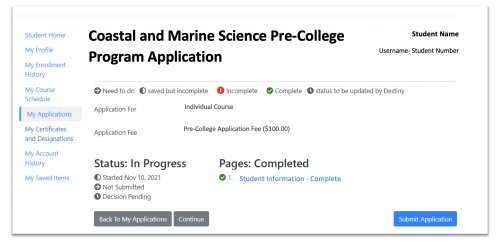 Here is an example of the options at the end of the application:

Step 4) Once you have pressed "Submit Application," please choose "OK" when the popup appears

The application fee will be added to the cart.
Step 5) Choose "Continue Checkout"
Step 6) Students must agree to the policy before moving onto the payment submission form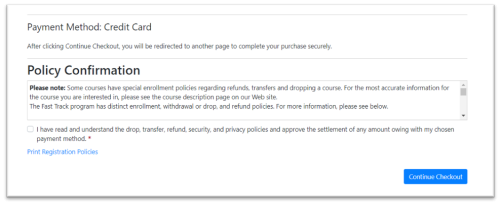 Step 7) Complete your payment using the following form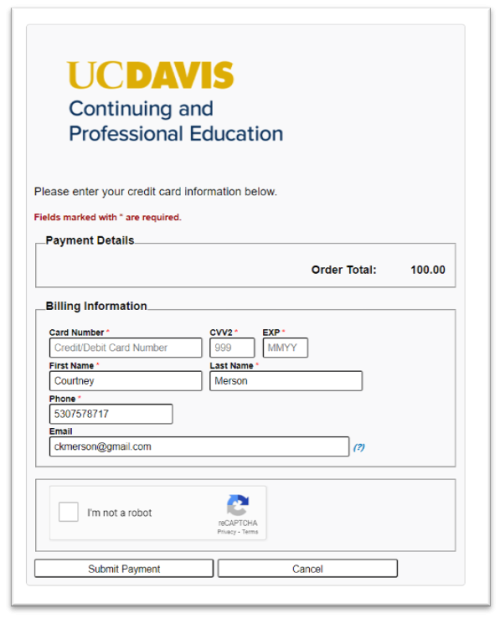 Step 8) You have now submitted your application!
Program staff will review your submitted application within 3 – 5 business days.
You will receive a notification from our staff about any status changes to your application.
Step 9) Approved applications
Notification of approved applications will contain a link which can be used by students to enroll themselves in their chosen program.
At the time of enrollment, a deposit of $1,500 is required to secure a place in the program.
An invoice with details regarding the amount and due date for these remaining fees will be sent to the student by our Student Services team. Students may access and complete payment on these invoices by logging into their student account.
Note: A registration deposit fee of $2,500 is needed to secure your place in the program. Additionally, any student who has not completed their payment by their program deadline will be unenrolled the course and removed from the class list.  
Please visit the Program Dates and Fees for more information about payment amounts and final payment deadlines.