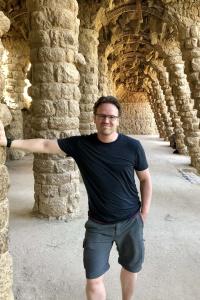 I grew up in Germany and since I was a small child, I was always interested in animals and plants in my neighborhood and nearby lakes and rivers. When I was 12, I started fishing and passed the German-required fishing examination at 14. I continued fishing as my hobby for many years and was a proud owner and breeder of different freshwater fish and insects until my late 30s. Animals and plants have engulfed my daily life and naturally led to a keen interest in preserving and protecting their habitats and biotopes.
I am a first-generation college graduate. I received a master's degree in biological sciences from the University of Cologne, Germany, and completed my doctoral studies in protein biochemistry from University of Cologne and University of Osnabruck in Germany. I was drawn to teach at UC Davis because of its reputation for research in environmental and human toxicology. I feel like this area of science has barely had its surface scratched and I am excited to pioneer further developments in the field. My research interests focus on understanding why industrial chemicals and other toxicants enter and accumulate in humans and other animals and plants.  
Science is exploration and discovery in its essence, and the UC Davis Pre-College Environmental Toxicology program can help you discover new fields and new passions. I am excited to be a part of it and help you along the way!