Michael Lewis Steps Down from UC Davis Professional Brewing Programs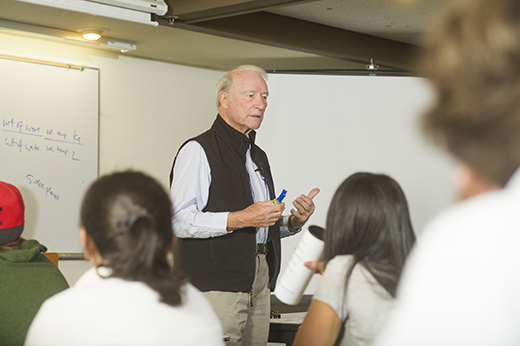 After more than 40 years of training and mentoring new generations of brewers, Michael J. Lewis, Ph.D., founder, academic director and lead instructor of the Professional Brewing Programs at the UC Davis Division of Continuing and Professional Education, has announced his resignation effective Aug. 31, 2018.
"When I came to Davis in 1962 (funded by MBAA research money) I never thought I would have the opportunity to establish a brewing educational program that would have such longevity and impact," said Lewis. "But that's UC Davis for you! It amazes me that the university is now seeking its third professor of brewing science. The first half of my 50+ year career served the domestic brewing industry and the latter half the craft brewing industry. Throughout, it has been a pleasure, indeed an honor, to work with such dedicated men and women who were my teaching colleagues and my many talented students whose achievements astonish me."
Lewis, professor emeritus of brewing science at UC Davis, established the university's brewing program in 1964. In response to the demand for condensed technical training programs in brewing science, Lewis collaborated with the UC Davis Division of Continuing and Professional Education to create several professional brewing programs in the late 1960s.
"Michael is a giant in the field. Without his support, this program would not be where it is today. We are eternally grateful to the leadership and commitment he has brought to the program over the years," said Jim Brown, director of fermentation science at UC Davis and the senior director of Science, Agriculture and Natural Resources at UC Davis' Division of Continuing and Professional Education.
As a pioneer in the brewing industry, Lewis has authored more than 100 scholarly papers and co-authored Brewing, the flagship textbook for professional brewing students. He has been honored with the Master Brewers Association of the Americas' (MBAA) Award of Merit and the Brewers Association's Recognition Award. He is an elected fellow of the Institute of Brewing & Distilling and a life member of the American Society of Brewing Chemists and MBAA. Lewis is also a recipient of the UC Davis Distinguished Teaching Award.
Throughout his tenure as academic director, Lewis was instrumental in building the UC Davis Professional Brewing Programs into the industry's preeminent training program. Former students include brewers and leaders at some of the world's top breweries, including Heineken, MillerCoors, Sierra Nevada Brewing Co., and Fat Bottom Brewing. "Dr. Lewis started my career, as he did with countless brewers all over the world, by connecting my enthusiasm with practical knowledge," said Tom Stull, head brewer at Sudwerk Brewing Co. in Davis. "He built a bridge between a hobby and a profession. The strength of the brewing industry today is a reflection of his work."
The UC Davis Professional Brewing Programs will continue to be taught by some of the world's most knowledgeable brewing instructors, many of whom were recruited by Lewis. Lewis will continue to teach Intensive Brewing Science for Practical Brewing, a popular five-day course offered by UC Davis Continuing and Professional Education.
Designed for novice and experienced brewers and brewing industry professionals, UC Davis' Professional Brewing Programs offer unparalleled expertise in brewing science, technology and engineering. As the world's premiere brewing programs, they prepare students to enter the brewing industry with the potential to rise to the highest levels of leadership within it.
The UC Davis Division of Continuing and Professional Education, which administers the Professional Brewing Programs, has been an internationally recognized leader in educational outreach for individuals, organizations and communities for more than 50 years. With 62,000 annual enrollments in classroom and online university-level courses, the division serves lifelong learners in the growing Sacramento region, all 50 states and more than 100 countries.