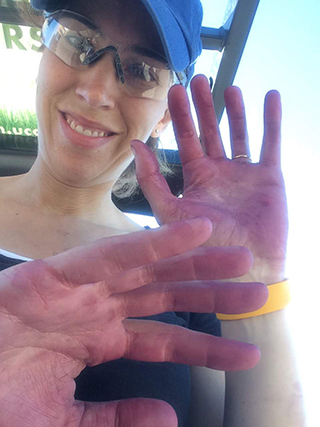 Melissa Pellini has been working in the wine industry since 2007. She studied viticulture and winemaking in northern Italy, where she became interested in the differences between conventional, organic and biodynamic viticulture. Pellini teaches Successful Home Winemaking.
Why are you passionate about winemaking?  
I decided to go into winemaking because of the beautiful connection that a bottle of wine has with place, time and the people involved with its production and consumption. There are many variables that can completely change a bottle of wine along its path from grapes to wine, yet there are some characteristics that are everlasting.
Why do you teach?
Helping people achieve their goals and gain autonomy is extremely rewarding. I love listening to students describe their hopes and dreams and then giving them the skills they need to make their plans a reality, whether it's to become a better wine consumer or to produce barrels of quality wine from homegrown grapes.
How would you describe your teaching style?
My classes always start with an introduction to allow me to better understand the goals of the individuals in the class. I incorporate technology to explain complex systems, such as the wine production process, and small hands-on demonstrations to clarify the details of the process. Expect to get your hands dirty pressing a handful of grapes, even in the class sessions! And because there are many ways to make wine, I encourage questions and promote an interactive exchange of ideas.
What do you want students to take away from your course?  
I want them to gain the confidence and know-how to produce handmade wine independently. My students also benefit from connecting with other wine and grape-growing enthusiasts.