4 Things for Winemakers to Consider during COVID-19
Leticia Chacon-Rodriguez has more than 20 years of experience in wine production and winery operations. She is the winemaker/winery manager for the Department of Viticulture and Enology at UC Davis and an instructor in UC Davis Continuing and Professional Education's Winemaking Program. As someone with her finger on the pulse of the wine industry, we asked for her thoughts on how she and other winemakers are navigating COVID-19.
"The most important thing is creativity." 
Here are a few notes she shared for winemakers to consider during COVID-19.
1. Wine has been part of human consumption since the beginning of history. That won't change.
Managing our vineyards is essential, and providing a venue for these grapes is an important part of this. We also need to continue focusing on the benefits of wine consumption in moderation. For these reasons, wineries are still operating. Yes, sales are being impacted with restaurant and bar closures, but online sales and direct-to-consumer sales are increasing. Wineries are pivoting by providing smaller bottles of wines or cans that can be used with take-out. We're also seeing a more competitive market due to the surplus of inventory worldwide, and more wine coming into the U.S. from other countries. A lot of people are also purchasing wines at a lower price, so when things bounce back there will be more of a mixture of low, mid and high price points—we think the three-tier system will change drastically.
2. Think outside the box.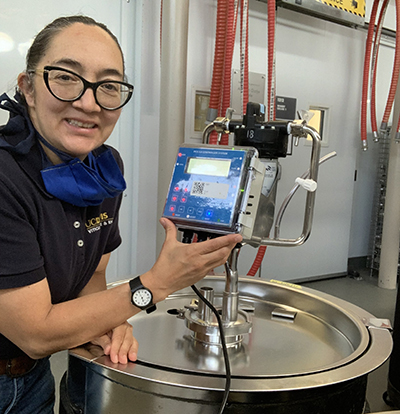 Wineries are innovating and being creative with their marketing to compensate for not having people in the winery. They're holding virtual wine tastings and participating in drink local campaigns. Growers are reaching out to hire and train unemployed workers to work in the vineyards. At UC Davis, we're continuing to work on innovations in automation, which is something that was made possible when our new LEED Platinum Teaching and Research Winery opened in 2011. We incorporated additional sensors in 2018 and have plans to continue with more automation during the 2020 harvest. We've also brought in computer science students to look at how you can monitor and control fermentation when you're not at the winery.
3. Inclusivity and diversity are key.
The wine industry is very exclusive. We need to be more diverse, more inclusive. Being creative in how you operate and how to sell your product, as well as focusing on the consumer are important. Think about how to diversify your wine, the price and who you're targeting. Don't stereotype or label people to fit into the industry's existing buckets, because these categories do not fit the vast diversity that exists. Instead, learn about the different cultures and populations so that you can approach them properly.
4. You can learn winemaking, even in an online course.
Take your winemaking to the next level
Whether you want to advance your career or expand your knowledge of the wine industry, UC Davis Continuing and Professional Education's online Winemaking Certificate Program and courses in viticulture and enology, sensory evaluation and winemaking business offer something for everyone.
I just finished teaching my first online course, Wine Filtration, and I'm getting ready to teach another one in Step-by-Step Winemaking. These are typically in-person courses that moved online, but you can still get the tools and the knowledge to use wherever you are, to do whatever you want to do. There are advantages to teaching online. I'm able to reach out to industry experts from around the world to present on different topics, I'm including more videos in the class and discussion forums to make it more engaging and dynamic, and I'm introducing new technologies. This has been an opportunity to rethink the class and put myself in the students' shoes to ask them what they want to see and what problems they're troubleshooting. I can make my students part of the conversation, so they're not just sitting back watching it happen around them.
Primary Category
Tags