New Course! Join OLLI for a Post-Election Forum on November 4
Just Added! New Course on November 4 to Discuss the Results of the Election
Post-Election Forum: Reviewing the 2020 Election
November 4, 2020: Wednesday, 2-4:30 p.m.
$20 (plus OLLI Membership fee for those without a current membership)
What will America feel like the day after the national election? Which candidate will be planning for Inauguration Day in January? Will there be a collective of new Congress members or will things be status quo? Join your fellow OLLI members with host/moderators Michael Pach and Richard Zeiger in a virtual classroom to discuss the outcome of national elections and a look at some state issues as well.
We intend to create a safe, respectful online space where everyone has a voice.
Enroll online or contact the OLLI Office to enroll by emailing olli@ucdavis.edu. Please include a phone number where you can be reached.
Learn More about OLLI: Check out the OLLI Membership and Volunteer Guidebook Available Online
So many good things about OLLI are the result of volunteer efforts by our members.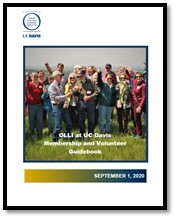 Get to know more about OLLI through our Membership and Volunteer Guidebook, created by volunteers, Nan Klein, Dale Good and Charlotte Lucero.
This 16-page guide provides helpful answers to your questions about the operation of OLLI at UC Davis, the role and structure of its Executive Board, volunteer opportunities/needs and so much more. 
 Visit the Resources page on our website to download and read a copy of this thoughtfully produced guidebook.
Tags