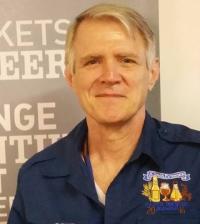 Sam Hartwell, retired colonel, U.S. Army 
"The Master Brewers Program was an incredible academic experience because of the world-class professors who are at the peak of their profession. I had no experience whatsoever in the brewing industry. It really brought me up to speed. "

Thomas Cernac, vineyard manager and winemaker, El Dorado County, California
"You don't retire and decide to make wine to make money. You do it because you love it. It has to be a passion. UC Davis Continuing and Professional Education made it extremely easy to use my benefits and they worked everything out with my VA Department. It's important for veterans to understand their VA entitlements and how to use them." Read more
Ray Weaver, owner and CEO, ABOGE Coaching and Consulting
"As a 30-year Air Force veteran, I understand the importance of life-long learning. I chose to enroll in the UC Davis Continuing and Professional Education Professional Coaching for Life and Work Certificate Program to improve my skills and make myself more marketable as I sought new opportunities. It led to my opening a successful business venture and aided in my transition from military to civilian life and work. I currently support other veterans with the skills I obtained from my UC Davis experience. I encourage other GI Bill-eligible veterans to look into the programs offered by UC Davis. They are sure to find one that will support their needs and possibly launch them in a new, prosperous life season. I was also able to complete the extremely challenging Certified Financial Planner program in less than one year with her assistance.  She was able to help me get enrolled in the program over the phone. Every class I took after the initial program enrollment was a simple e-mail and everything was done. Great experience with UC Davis, the VA Service Coordinator and the top-notch instructors."
William E. Robinson, Electrical Supervisor, DAF
"The Construction Management Certificate Program fit my full-time work schedule and was accepted by the VA, enabling me to use my 911 GI Bill benefit. My VA Services Coordinator was engaged and secured each of my class selections throughout my tenure. The courses enhanced my ability to lead and manage small- and large-maintenance/construction projects. I enjoyed sharing and hearing real-world problems and solutions during the on-ground class meetings. This certificate will complete my resume as I pursue a private sector position. I highly recommend this certificate program. "