Comprehensive Test Prep and One-on-One Advising
A distinct feature of our Health Professions Post-Bac Program is our holistic approach. Along with an academic-enhancing curriculum, we also provide students with comprehensive test preparation and high-touch advising throughout the program and application process.
In-House Test Preparation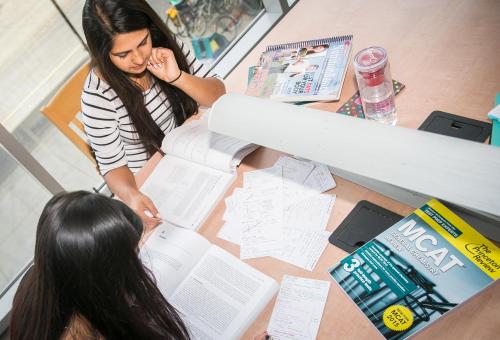 Whether you're taking the MCAT, GRE or DAT, your success on that test is a top priority! We have built an in-house test preparation program to supplement the use of Kaplan course materials. During orientation in January, you will take a full-length test to assess your current needs. Our test preparation instructor will review your scores and meet with you individually to discuss strategies to address any weaknesses and help you select appropriate coursework. The individualized nature of this approach paired with the longevity of practice is aimed to build test-taking skills and confidence. 
During this program, students will participate in experiential learning opportunities to review content, learn and apply strategies for each section, take multiple full-length practice tests and build the confidence necessary to conquer their relevant entrance exam. 
High-Touch Advising
Our advisors personally get to know each post-bac student's goals, challenges, strengths and weaknesses to provide holistic academic advising. Through weekly seminars and check-in meetings, your advisor will provide assistance and resources as necessary.
Advisors will have daily appointments and/or drop-in advising available to all post-bac students. Post-bac student success is our top priority, so all efforts will be made to assist students in acclimating to the environment and experience.
Application Preparation
Throughout the program, advisors will work closely with you to identify an application strategy that aligns with your strengths, weaknesses, experiences and goals. Application preparation is included in the cost of the Health Professions Post-Bac Program and covers:
Application needs assessment
Personal statement development and editing
Experience writing development and editing
Résumé building
Cover letter and interest/update email writing
Disadvantaged statement writing
How to ask for letters of recommendation
Creating a school list
Centralized application review
Secondary application preparation
Interview preparation
In the fourth quarter, you will be enrolled in a one-unit application preparation seminar designed to build each part of the application.
Composite Letter
While UC Davis undergraduate students do not have access to a composite letter, our post-bac students do. When you are ready to begin requesting letters of recommendation, all letters will be sent to the UC Davis Health Professions Post-Bac Program. We will compile your letters together, and the director will write a cover letter, addressing your unique qualifications for medical school. Taking what has already been said by other letter writers into context, the director will supplement with any additional information to ensure that the letter packet encompasses a full depiction of you as an applicant. The packet will then be scanned and uploaded into the application system for the applicant when the system opens. Composite Letters will only be provided for students in the 12-month program.